THE SERVICE DEPARTMENT AT BAKER MOTOR COMPANY SETS A HIGH STANDARD IN CUSTOMER EXPERIENCE.
Every visit to Baker Motor Company´s workshop follows a standard process. From arranging the appointment, through the reception process, to the repair, quality inspection and vehicle return - so consistent service is ensured.
Find out what work needs to be carried out on your vehicle and why, from Baker Motor Company's service department. Using a check list, they explain the work required and write it down. This gives you the opportunity to discuss the nature and extent of the work directly with the service advisor, along with the price, possible repair alternatives, repair times and recommendations. And of course, they're also available to deal with other issues and options regarding your Porsche.
We take great efforts to return vehicles back to their owners cleaner than they were given to us. To this end we perform a complimentary Car Wash after every service visit and offer upgraded detailing options such as Waxing, Compound Buffing, Carpet Shampoo, Leather Conditioning, Headlight Restoration and Wheel Repair.
COMFORTABLE LOUNGE
For short visits, our clients enjoy multiple client lounges featuring elegant settings, comfortable furniture, courtesy Wi-Fi, and guest computers.
ALTERNATE TRANSPORTATION
For lengthier service visits, we offer (by appointment) transportation options such as Complimentary Shuttle Service and Complimentary Loaner Vehicles.
COMPLIMENTARY REFRESHMENTS
Guests are offered chilled bottled water, gourmet coffee, and pastries from Normandy Farm Artisan Bakery.
COMPLIMENTARY CAR WASH
We perform a complimentary Car Wash after every service visit. This includes a pre-wash, automatic car wash, hand drying, wheel cleaning, and vacuuming of the floor mats. Upgraded detailing options such as Waxing, Compound Buffing, Carpet Shampoo, Leather Conditioning are also available.

SERVICE PROFESSIONALS
Service Professionals at Baker Motor Company are trained and certified by Porsche and receive ongoing education to ensure our expertise with Porsche vehicles. We use Genuine Porsche OEM Parts, which keep your vehicle original, and preserve the nation-wide Porsche new-vehicle warranty, roadside assistance, and trip interruption benefits. All this helps us to do the job right the 1st time; ultimately saving you time and effort.
Qualified staff
Every day, highly-qualified trainers deliver technical and non-technical content in our global training centers. Using qualification programs specially developed by Porsche for workshop and service staff. And using the experience and knowledge gained from over 60 years of sports car development.
Special tools
Any technician is only as good as their tools. That's why Porsche dealers use highly specialized technology. Such as the diagnostics tester for reading and deleting the error memory. The PCCB brake disc tester for detecting the degree of wear and tear on the ceramic brake discs. Or the high-voltage test adapter for manually checking that no voltage is present on high-voltage vehicles.
Porsche Genuine Parts
Porsche Genuine Parts ensure that your original remains just that. Especially after repair or maintenance. Porsche spare and replacement parts are optimally tailored to your vehicle and meet Porsche high quality standards. This applies to safety-related spare parts, such as brake discs, and to items such as body panels. For maximum safety, reliability and value retention.
Retaining your vehicle's value
How much is a dream worth? And for how long is it of value? That depends. On the quality and regularity of its upkeep. Your Porsche will only retain its value in the long-term if it's constantly maintained through Porsche Service. So that you can continue to enjoy your Porsche.

Maintenance
PSMP
Porsche Scheduled Maintenance Plan
Maintain confidence in your Porsche vehicle from the dealership, to your home and beyond with The Porsche Scheduled Maintenance Plan (PSMP). This prepaid service plan allows you to maintain and manage your factory recommended scheduled services. Under the plan, we provide you with the most detailed services your Porsche needs to maintain its luxury, beauty and superior performance.
What's included: There are 4 plans that are offered through PSMP. Each plan is customized to cover critical mileage periods of 2 years/20,000 miles, 3 years/30,000 miles, 4 years/40,000 miles or 5 years/50,000 miles.
How you benefit: Here are some benefits that the Plan brings to you as a Porsche owner:
Certainty. Locks in the price of routine maintenance for the term of your plan. No wondering, "Will the cost of a 30,000 mile checkup on my vehicle go up in a year?" No, it won't. And it will not for the entire term of the plan you selected.
Quality. All repairs and replacements use Genuine Porsche Parts.
Confidence and Competency. Knowledge that your authorized Porsche dealership uses highly skilled, factory-trained Porsche technicians.
Flexibility. Once purchased, have your routine maintenance performed by any participating Porsche dealership with in the United States.
Value Proposition: Generally enjoy a cost savings over the life of the plan rather than paying for services as you go.
In establishing scheduled maintenance requirements for the Porsche vehicles, our engineers in Germany determined the checks and service operations necessary to keep your Porsche running in optimal condition. Protect your investment with PSMP.
ANNUAL MINOR / MAJOR SERVICE:

Price varies by model and interval
(Recommended inverval varies by model)
---
To guarantee optimum performance of systems and components, they must be regularly maintained. This helps retain value and improves road safety for your Porsche vehicle. Porsche maintenance requirements are optimally tailored to your Porsche. Your vehicle is checked at regular intervals. If necessary, wearing parts and fluids are changed. Baker Motor Company will advise which maintenance intervals and requirements apply to your vehicle.
BRAKE FLUID EXCHANGE:
$229.95 (for most vehicles)
(Recommend every two years or 30,000 miles)
---
Operation of disc brakes creates extremely high temperatures which can cause rapid oxidation of the brake fluid. New Anti-lock Brake Systems (ABS) are sensitive to this fluid deterioration and this kind of deposit and varnish buildup can lead to serious malfunction of the braking system. The Brake Fluid Exchange service effectively flushes all oxidized and corrosive fluid from the entire braking system. $___**

Tires and Alignment
Porsche N-marked tires primarily differ from other tires due to their special design. They provide excellent driving stability – and maximum driving pleasure. During development, the tire geometry and rubber composition in particular, are tailored to Porsche vehicles. And this applies to all Porsche approved tires, be they all-season, summer, winter or high-performance tires. All the tires available from your Porsche Service Advisor at your authorized Porsche dealer have been thoroughly tested and approved by Porsche. This is distinguishable by the N-marking which is always specified in the tire's technical data, and abbreviated to N0, N1, N2, N3, N4, N5 and N6. The marking refers to the technical status at the time approval was obtained, and progressively increases with each significant evolution of the tire. A Porsche-approved tire ensures that your vehicle retains its original driving performance and safety margins, even after being fitted with a new replacement tire. There are many reasons for this. Or 33 to be precise.Porsche N-marked tires primarily differ from other tires in terms of their geometry, rubber composition and testing method, which includes a total of 33 important criteria. These consist of 12 objective outdoor criteria, such as wet and dry braking performance and service life. There are also 16 objective test rig criteria, including rolling resistance and performance at high speed. And five subjective outdoor criteria, such as handling and driving comfort, are also considered. The tangible result: driving pleasure and safety.
LOW PRICE GUARANTEE:
(on all Porsche approved tires)
Baker Motor Company guarantees the Lowest Installed Price in the Charleston area for Porsche approved tires.
In most cases, our prices are simply the lowest, but we will even refund the difference if in the unlikely event you should find a lower price (that includes installation, taxes, & road hazard) at a local competitor within 30 days of your tire purchase. See a service advisor for details.
24-Month Road Hazard Coverage:
No charge (with purchase of tires)
All Porsche Approved Tires purchased and installed at Baker Motor Company of Charleston Inc include 24-Month Road Hazard Coverage
100% Coverage the first year
50% Coverage the second year
WHEEL ALIGNMENT:


$169.95

$159.95 (for most vehicles)
(Recommend every year or 10,000 miles or as needed)
WHEEL BALANCE:
$69.95 (for most vehicles)
(Recommend every year or 10,000 miles)

Diagnosis / Repair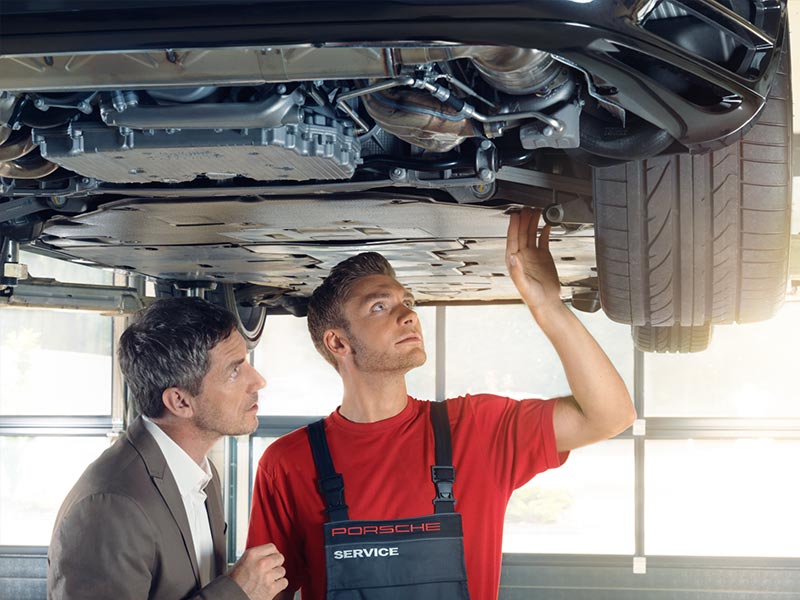 DIAGNOSIS:
$120.00 (per issue)
Our Porsche certified technicians do more than just read codes or throw parts at a problem. We use Porsche certified diagnostic equipment and the system-driven diagnostic tools and knowledge base to accurately diagnose and repair your vehicle. Then we function test the failing part to isolate and confirm the problem. We get the repair done right, the first time, without replacing unnecessary parts.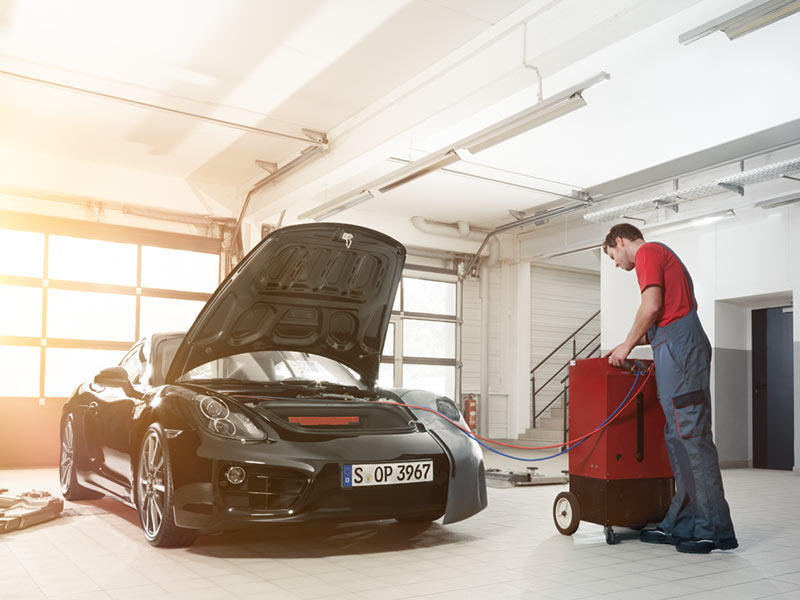 AIR CONDITIONING DIAGNOISIS:
$222 (diagnosis)
To properly diagnose an air conditioning issue, we must evacuate and capture all remaining refrigerant in the system, we measure how much came out, and then re-fill to the factory-specified level. We will also introduce a dye to the refrigerent so that leaks can be detected. If leaks are slow enough that they cannot be seen immediately, the client can return within two weeks for a complimentary leak inspection.
AFTERMARKET WARRANTIES:

Baker Motor Company works with all Aftermarket Warranty companies. In the event of a claim, we must first diagnose the problem and contact the warranty provider before we will know if the claim is covered or not. Therefore the client be responsible for any diagnosis fees incurred in the event that the issue is not fully covered. Baker Motor Company will work directly with the warranty provider for payment on approved claims.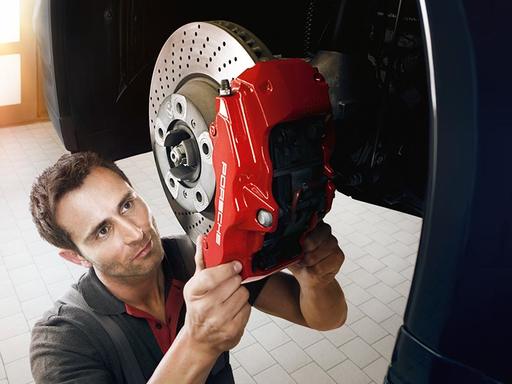 PORSCHE GENUINE PARTS:

Porsche Genuine Parts are optimally tailored to your vehicle, meet the highest Porsche quality standards, are tested by the same engineers that design Porsche vehicles, and are covered by our 2-year limited Porsche warranty. For maximum safety, reliability, and to protect the value of your Porsche, insist on Porsche Genuine Parts. Qualified Porsche technicians trained by Porsche are on duty at Baker Motor Company of Charleston Inc. to determine the right spare parts for your Porsche vehicle.
---
AutoButler Protective Coatings with Re-Application ContractAutoButler
5 Year Program: $769
For any new Vehicle
Includes cleaning and
re-application every 6-months
of Premier Paint Protection II:
Premier Paint Protection II
Fabrigard
Leathergard
3 Year Program: $769
For vehicles with less than 2 model years old and have less than 24,000 miles.
Includes cleaning and
re-application every 6-months
of Premier Paint Protection II:
Premier Paint Protection II
Fabrigard
Leathergard
3 Year Program: $769
For vehicles more than 2 model years old or have more than 24,000 miles.
Includes cleaning and
re-application every 6-months
of Premier Paint Protection II:
Premier Paint Protection II
Premier Paint Protection II
The Auto Butler Premier Paint Protection II program, with its two-step process, gives you the protection you need and the shine you want - we guarantee it! Auto Butler's two-step re-application program gives you years of warranty protection and assures a "new car finish" look that more than redeems the application cost when it comes to trade-in time. Auto Butler even sends you re-application reminders to be sure your car looks its best...all the time! Much like a good sunscreen protects your skin, paint protection shields a vehicle's valuable paint surface from dangerous ultra violet rays. Equally important, paint protection creates a protective barrier that shields the paint from environmental hazards including tree sap, bird droppings, road grime and industrial contaminants. Appearance-wise, paint protection brings out and maintains the depth and luster within every professional paint job. To protect your paint and appearance we professionally complete two important steps. First, to be treated, the surface must be prepared for the paint by removing any dirt, or industrial contaminants. This is accomplished with a high-grade cleaner/polish. Next, the paint protection is applied to protect the original paint against degradation caused by environmental hazards and UV radiation. Auto Butler uses the only automated car polisher endorsed by most major car manufacturers to perform this two-step process. The Auto Butler polishing machine has 20,000 soft, cloth-like fingers working these products into the vehicle and not just where it can be seen. It does the hood, roof, lower panels, the complete job. The Auto Butler machine polishes with uniform quality and consistency every time with no streaks, swirls or burns.
Fabrigard
Auto Butler's Fabrigard prevents stains and preserves the interior's showroom appeal. It is professionally applied using high pressure to thoroughly coat every fiber and thread of the vehicle's interior fabrics including the seats, seat backs and carpets. More than merely water-repellent, the tough coating prevents stains from coffee, softdrinks, milk and other water, or oil-based liquids. Spills bead up and wipe off. Fabric protection also prolongs fabric life by reducing "thread-on-thread" abrasion from dirt particles trapped between fibers that make up the cloth. With Auto Butler's warranty, you have peace of mind because you are covered against permanent staining.
Leathergard
With the Auto Butler leather protection system, you receive a conscientious program of care from the outset in order to maintain your leather's beauty and durability. Without regular care and treatment, the leather gets dull, hard and brittle. Its fibers become stiff and unyielding, eventually splitting and cracking, causing irreparable damage. For the life of your warranty, your vehicle is retreated every six months to give your leather products the protection they need.